Association, Membership, Events, Webinar, Zoom™ API, Mobile
Manage them all in one powerfully flexible platform.
The xCatalyst Platform provides intuitive and automated workflows to easily build, manage and organize your association, events, memberships, continuing education and NOW webinar API integrations with Zoom™, GoToTraining™ and others.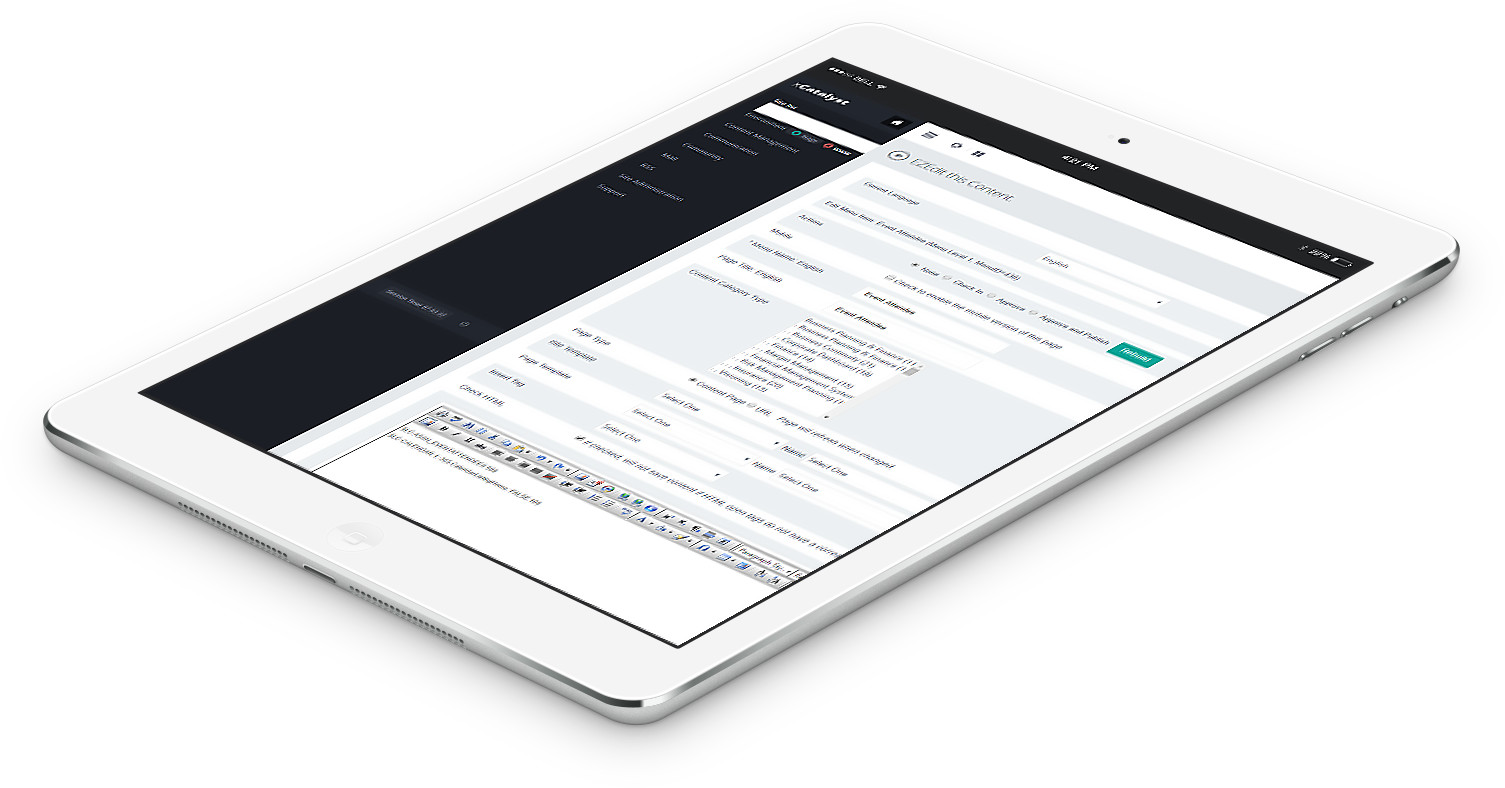 We provide our clients with world class support. Call us to schedule a demo.
Schedule a Demo
Features you will Love
xCatalyst has over 200+ feature packed tools and modules.
Membership Management (AMS)
Powerful association and membership management modules to help you get on the fast track.
Events Management
Intuitive Event Creation, Event Registration and Payment, Event Marketing and Event Reporting.
Continuing Education
Manage and deliver continuing education programs and registration with ease. CEU Credit and Certification Management.
Website Management
Manage your entire website with customizable website design, easily updateable website content, and online community options.
Mobile Event App
Directly build and feed YOUR dedicated IOS and Google Play app from your xCatalyst events. Send push notifications and customize your app.
Donations Management
Donation Management Module you can track your donors, manage multiple campaigns, and send emails and letters all in one easy to use system.
Online Store
Create and manage the sales of downloadable and/or physical products, product inventory, shipping costs, taxes, and multiple levels of pricing.
Webinar API Integrations
Deliver virtual events, courses and meetings online using our Zoom™, GoToTraining™ and other API Integrations.
Membership Directory
Online membership directory with end-user-defined search parameters, automatically creates an on-demand printable membership directory.
Continuing Education
LMS, CEU and Certification Management.
Deliver virtual events, courses and meetings online using our Zoom™, GoToTraining™ and other API Integrations. Track attendee history, apply continuing education credits, send certificates, as well as target attendees for future programs. xCatalyst is a complete set of tools to build and manage a robust course catalog, online courses, hassle free registrations, along with other automated processes.
In short, everything you need for your educational program registration and management.
Schedule a Demo
Automate your Events and Conferences
Managing events and conferences has just gotten a whole lot easier.
Event Management allows you to easily manage and create events, on-line invitations, on-line bookings, attendee rosters, automated email notifications, discount options, and create relevant reports. On-line registration will improve your attendees' experience while reducing your costs and workload.
Let xCatalyst do the heavy lifting. You focus on the event.
Schedule a Demo
Print Ready Event Directory
Generate a print ready event directory with the press of one button.
Now you can generate a high resolution print ready PDF to send to the printer for your event. No more dealing with designers and marketing agencies. You'll reduce duplicate work and save money too!!
Go ahead...press the button.
Schedule a Demo
NEW Dedicated Mobile Event App
YOUR branded Apple and Android event app.
This is going to change everything!
Event Registrations
Integrated with the xCatalyst event registration system.
Personalized Schedule
Personalized event schedule based on user registration.
Guide, Profile & Location
Event guide with profile and location information.
Event Sponsors
Event sponsors with sponsor logo and contact info.
Single sign-on
Single sign-on with the xCatalyst website.
Event materials
Event materials integrated with the xCatalyst Document Manager
Event speakers/attendee
Event speakers with topic and bio information and attendee roster with pictures.
Check-in module with barcode
Check-in module with barcode scanning and seamless event and function check-in functionality.
Unmatched World Class Client Support
We love our clients and it shows! Our rave reviews speak for themselves.
+ Years
Combined Experience
Minutes
Average Support Ticket Time
Call us today at
(281) 822-6500,

or Email us at info@esxinc.com

We provide our clients with world class support. Call us to schedule a demo.

Schedule a Demo